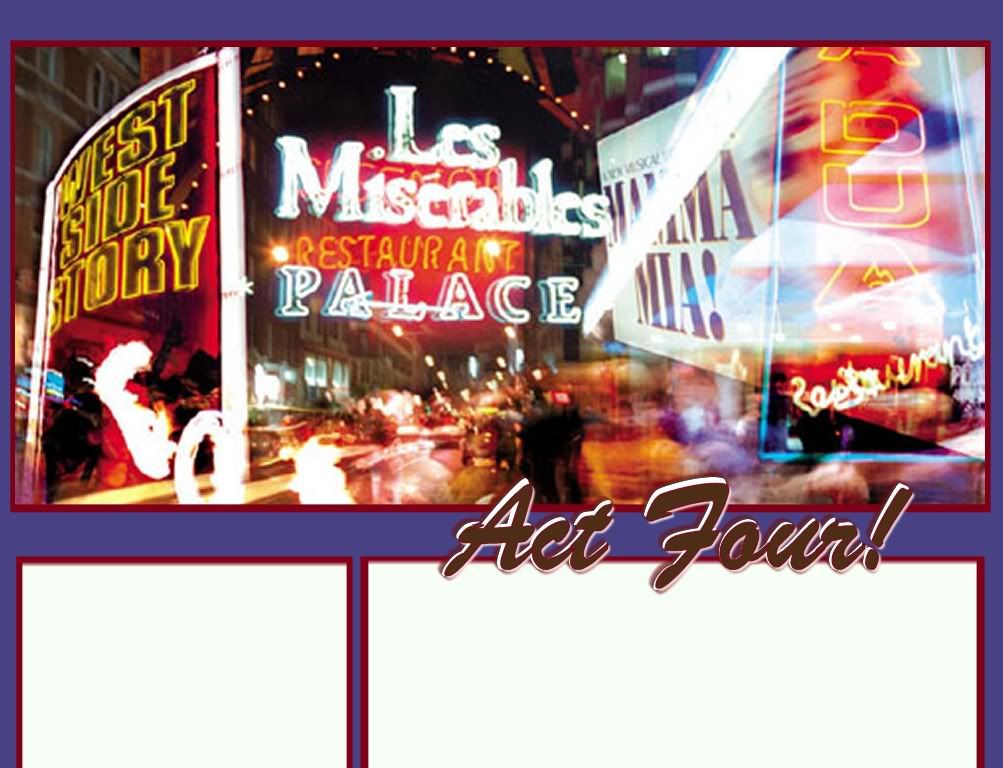 Name: Unga~Chunga
Location: Virginia, United States
Return to Act 4

ACT 1:

Entered convent at age 18 with twin sister, left after 2 years
ACT 2:

Married, had 3 fantastic daughters, divorced after 10 years
ACT 3:
Remarried for 20 years, divorcing
ACT 4:
Now Showing
Blogroll The Leading Lady

Image Provided By Client
PaintShopProCS
Font Garden
Monday, February 28, 2005
Birthday Recovery
Act IV has enjoyed an exciting jumpstart this past weekend. Although under the guise of a birthday celebration - a 4 day elongated one I might add - these tokens of friendship and love were an affirmation to me of the support and confidence that many have for my new adventure in this one life we have!

Whereas many of my new blog friends are dealing with the very real young family issues such as the birthing and tending to babies, the crazy hectic activities of family life and spousal relationships, I am at that crossroads in life where, technically, my child-rearing job is completed. I say 'technically' because it never really ends but actually evolves into different positions. I am the friend, sometimes the financier (very low interest rate!), the counselor, the family negotiator, and some say the family monarch ( although I believe I need to wait my turn on that one). But always the mother when crisis, heartache or sickness strikes. Always the mother when the good news is just bursting forth from within and I'm the first one they have to call. And as time goes on I do see my role being reversed occasionally when my girls take the parental role of support and guidance. I have no problem admitting that I need them ever so much as they need me! Our needs just change as we step into different phases of our lives.

Which brings me to ACT IV. The new beginning. I am in the process of leaving a 20 year relationship and heading into totally unknown territory. For the first time in my life, I am living alone. I swore I would never could do this - certainly not like it. So why am I now actually enjoying each household chore - each mechanical accomplishment (what you do when you have to!), unpack-ratting a house of 26 years occupancy? I have a mission - it's part of my organized plan of life. I need to sell this house (way too big for my needs) and move to a smaller, more secure condominium. I have a 'to do' list that keeps me awake at night but I have religiously been slicing away at it. I'm proud of each 'lined through' item! But there are still a couple of nagging legal issues that are slowly moving to resolution. They say patience is a virtue - I am overflowing with virtue then!

Working through marital separations can be quite stressful. That is an understatement! Perhaps I should write a book since this is my second round with spousal illusions and delusions.
What a monkey off my back though! I feel like my feet and hands have been untied and my wings unfurled. Here I come world!
--The Leading Lady-- | 6:21 PM | 7 comments
---
Thursday, February 24, 2005
Happy Birthday to Me!
Today is my birthday and as I blow out my 50+ candles, I celebrate being the mother, sister, daughter, aunt, grandmother & friend that I am. This is also my introduction to the world of blog. Thanks for visiting me on this special day. Please leave your comments and stop by again!
--The Leading Lady-- | 7:00 AM | 22 comments
---