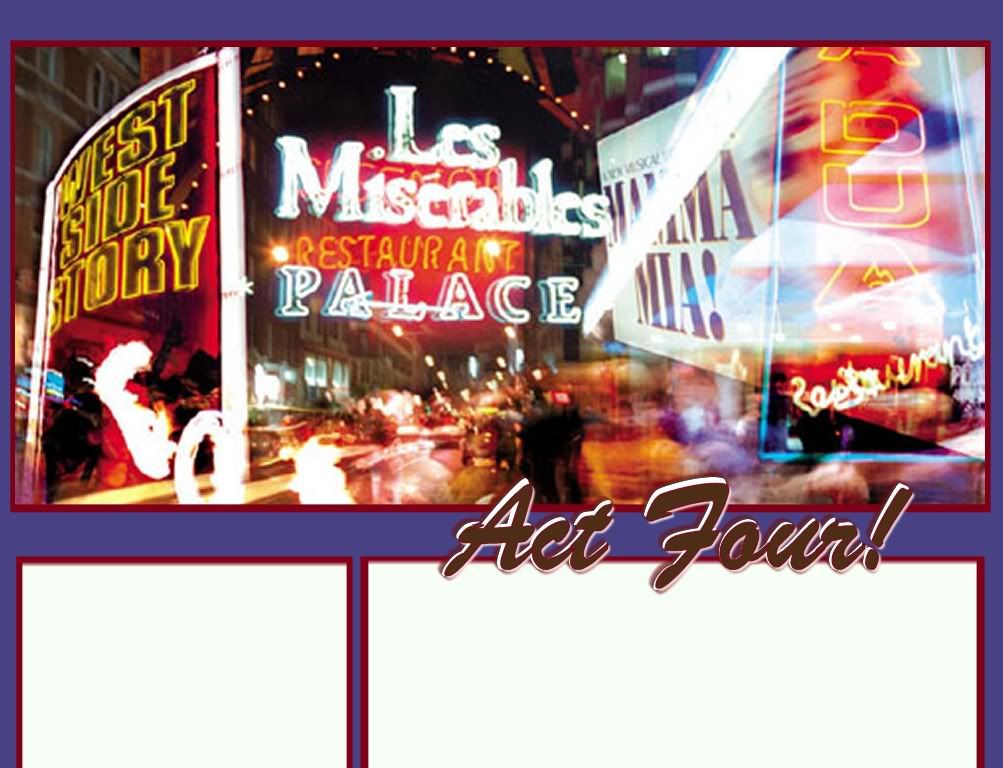 Name: Unga~Chunga
Location: Virginia, United States
Return to Act 4

ACT 1:

Entered convent at age 18 with twin sister, left after 2 years
ACT 2:

Married, had 3 fantastic daughters, divorced after 10 years
ACT 3:
Remarried for 20 years, divorcing
ACT 4:
Now Showing
Blogroll The Leading Lady

Image Provided By Client
PaintShopProCS
Font Garden
Monday, October 17, 2005
Home Cookin!
Sunday was a special 'family day' at Unga's house. MommaK and her girls came over along with AM and her special 'squeeze'. Under one condition!! The Redskin game needed to be turned on! I laugh thinking about how many Fall and Winter dinners are timed just right to coincide with either half time or the end of the mighty football game. And honestly, regardless of my lack of 'passion' for the sport, I have always felt that the two should work in harmony instead of in conflict. Another example of the 'antithesis' of my mother's behavior. She COMPETED with football! Dinner was 'ready' (which meant drop everything and be at the table in a ) somewhere between the 3rd and 4th quarter and my father would belabor leaving the TV as long as possible. This would lead to temper tantrums, crying and eventual silence - deadly silence! The happy dinner scene would be ruined as each of the children would try and coax our parents into some meaningless dialogue just to cut the tension. This annual recurring program was especially pathetic on Thanksgiving where football and eating are truly merged into one American ritual.




Here I am pulling a most scrumptious potato dish from the oven, gloved in my fortified Pampered Chef gear. Check out the new hairdo! What do you think with the Martha Stewart flip. More on the potatoes: they are a blend of baking potatoes and yams as well as baked garlic, rosemary and a little butter and milk. You could call them Halloween Potatoes by their rich orange color! The Yams (used Organic!) gave a sweet touch! One guest (remains nameless) who hates sweet potatoes complemented me on the yummy cheese potatoes. Hmmm


*******************************
This is a very hot dish (and I don't mean my daughter either!) It's MommaK's Chicken/Mushroom/Bacon and cheese dish which was beginning to burn my hands as I waited for this picture to be taken!
************************************************



Realty Check!

I was having one of those days at work where everything was going wrong. After driving 25 miles with a business associate to a meeting I found out that I had the time wrong and was 4 hours early. He had a plane to catch in 2 hours - luckily he was up here for more than just my meeting! While driving him to National Airport he mentioned that, considering the way my day was going, I should just drive home after dropping him off. So I'm thinking...it IS a full moon period - best concentrate on my driving.

Stopped at a local grocery store to pick up a quick salad for lunch and as I was walking back to my car in the parking lot, I guess I stepped on a stone which threw me off balance. There was nothing to reach out to grab (where is man when you need one!) so I found myself 'going down' - somewhat in slow motion - probably about 30 feet in front of an oncoming car. I'm thinking "If you have to go down at least try to do this as gracefully as possible!" I don't think that is what happened! While I crumbled onto my right elbow and hip the contents of my grocery bag and purse littered a ten foot area around me. I knew I had to get up - and quickly (the car did stop as the driver watched my performance) but my body was telling me it's really ok to just stay still. I felt searing pain in my arm and hip but not of the 'broken bone' variety - I think. I managed to get up on my feet, stagger around to pick up my litter (I'm sure I looked intoxicated!) and started to walk to my car. He then kindly drove by and asked if I was ok. God did I feel like an old lady! I got in the car and sat there for quite a while before driving back to work. I was amazed at how traumatized I felt from a simple fall! I remember as a kid just jumping right back up and ignoring the scrapes and bruises. Well, I have to admit I did milk the sympathy of my co-workers at my return to the office. They cleaned and medicated my elbow, hand and knee, fixed me some tea, and gave me Tylenol for my throbbing pain.

I don't think I want that to happen again any time soon!
--The Leading Lady-- | 5:15 PM | 15 comments
---