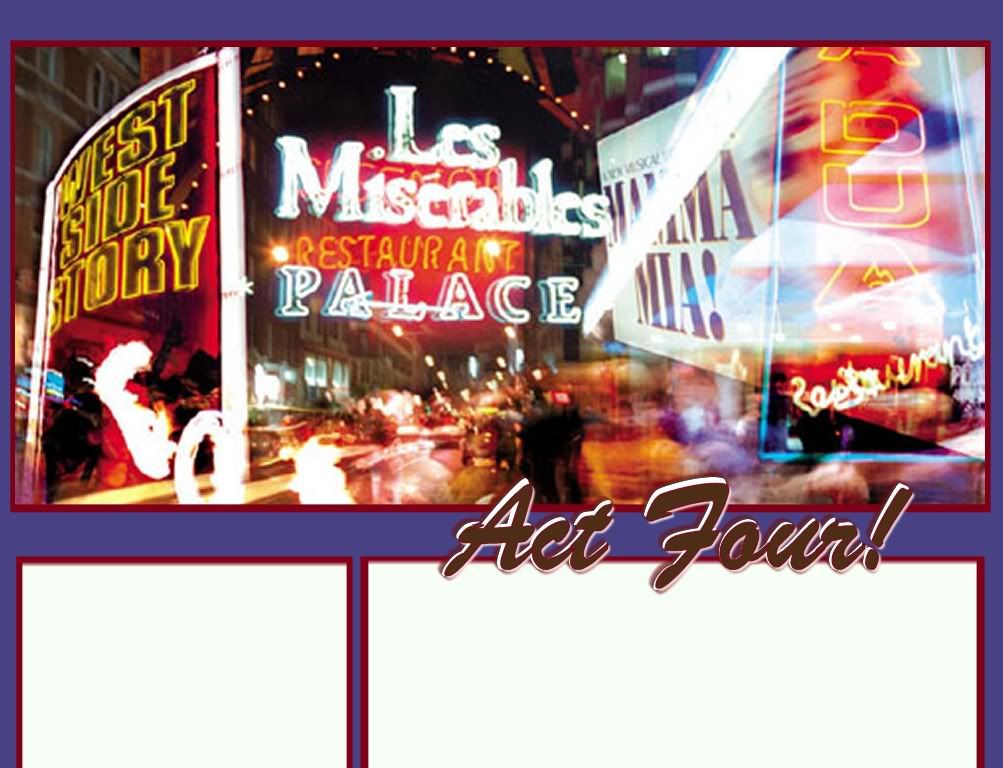 Name: Unga~Chunga
Location: Virginia, United States
Return to Act 4

ACT 1:

Entered convent at age 18 with twin sister, left after 2 years
ACT 2:

Married, had 3 fantastic daughters, divorced after 10 years
ACT 3:
Remarried for 20 years, divorcing
ACT 4:
Now Showing
Blogroll The Leading Lady

Image Provided By Client
PaintShopProCS
Font Garden
Monday, November 07, 2005
Happy Monday!
What a week of stress, craziness, more stress and then loads of fun!

I'm talkin about work, singing, 'relationships' and then finally spending quality time with my granddaughters!

WORK
A week of mounting pressure with meetings, deadlines, settlements and renewals.
One significant highlight still has me scratching my head in amazement! The very biggest cheese in our national company( the COO) came calling to visit our office and MY account was chosen for a 'field visit' which required me to drive with him and other important people of similar rank for a 45 minute excursion to Maryland and back. It all went off fairly well and I now am a 'person of recognition'. We'll see where that takes me!

SINGING
The show is getting closer; music must be memorized; attend to ticket sales; collect dues etc etc.
We had a fundraiser last Wednesday night at the Silver Diner. We can earn 20% of all profits during the hours of 6:30 and 9:30pm - over and above what was made the previous year on that night. The key is to invite your families and friends and pack the restaurant during these hours. Five of us played 'hostess' and seated the guests. Not a bad gig - it actually was quite fun and we probably made $300 to $400. Beats washing cars!

RELATIONSHIPS
I pulled the plug (I hope) on two guys who just won't take the obvious hints that I'm not interested! Not being the type to 'hurt feelings', I just become evasive and 'remote'. Phones go unanswered and emails ignored. I have trouble saying ' hey look, the chemistry isn't there so take off!' Friday night I met a guy for dinner with whom I had been emailing for a couple of weeks. What do you do when you arrive at the restaurant and can see that your 'date' is far from the likeness of his picture both in age and GIRTH? As he teetered on the curb about 10 feet from me I tried to enter the restaurant - acting as if I hadn't seen him. 'Barbara, is that you?!' Oh Crap! Luckily he was an easy conversationalist which helped to pass the obligatory time. I am not opposed to 'girth' on a man if it is solid, will kept, and manly. Not so with this gentleman. As he talked and talked and talked and as I tried hard to keep my eyes from closing (after two Margaritas!) , I knew that soon I would have to deal with the awkward walk to my car and was wishing I was home behind locked doors. Oh but it wasn't over - I was stalked with phone calls that night and three times the next day - not to mention emails! Now I ask you, would it have been proper or fair of me to 'cut to the chase' either before we even walked into the restuarant; during the meal; or at the end of the meal? Help me out with Match.com etiquette!
I'm happy to say that he accepted the 'dear john letter' graciously and wished me luck!

LOADS OF FUN
I drove down to pick up my girls Saturday and enjoyed ...........
1) Shopping at 'THE Mall'. CP, the 10-year old is already a veteran shopper - taking after her mother. I am amazed at how grown-up she is! How she is very attentive to her hair and makeup (very minimal!) - her walk is more feminine; she has a totally different air about her when she's in the shopping mode. Discriminative buyer! Smells a sale! Insists on paying with her own money! GP, the 6 year-old, is scouting out all the stuffed animals as she knows she'll melt me into buying at least one for her!
2) Dinner at Red Robin - the ultra cool hamburger joint. Where one's eyes are much bigger than one's stomach!
3) Quick stop at Target to try to find Dad a BD present - no luck there but a cool CD was found.
4) Then to the movies to see 'Chicken Little'. The vote was 2 for Chicken Little and 1 for Dreamer. I lost. But Chicken Little lived up to it's fanfare! There was enough adult humor in it to keep me laughing as much as the girls! One of the better Disney films. The characters are all very lovable.
5) We switched bedrooms since CP wanted to play her CD game and GP needed the TV and the light on to sleep. I collapsed in the guest bedroom!
6) Sunday brought Church (my how well they behaved while I was in the choir!), then a quick lunch and off to see a live performance of "The Emperor's Clothes'. More suited for the younger kids but none-the-less well done. CP was even picked to be in a small part!
7) Found the ideal gift for Dad at Toys-R-Us. Hmmmmm
8) One last walk to the shopping center to visit our favorite Hallmark store and stop for ice cream at Cold Stone.
End of the weekend - I think they had a great time!
--The Leading Lady-- | 8:28 PM | 8 comments
---