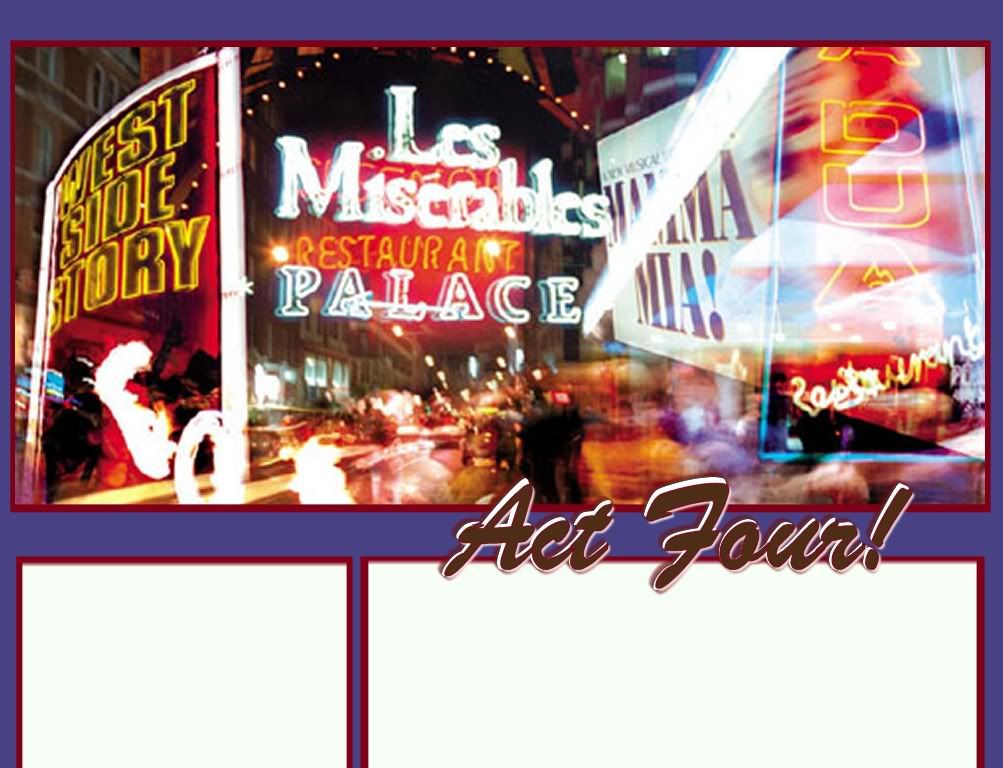 Name: Unga~Chunga
Location: Virginia, United States
Return to Act 4

ACT 1:

Entered convent at age 18 with twin sister, left after 2 years
ACT 2:

Married, had 3 fantastic daughters, divorced after 10 years
ACT 3:
Remarried for 20 years, divorcing
ACT 4:
Now Showing
Blogroll The Leading Lady

Image Provided By Client
PaintShopProCS
Font Garden
Sunday, January 01, 2006
Happy New Year!!
The very best of 12 new months to my family and friends!!
Irish toast
In the New Year, may your right hand always be stretched out in friendship, never in want.
Movie: "When Harry Met Sally", Harry Burns
And I love that you are the last person I want to talk to before I go to sleep at night. And it's not because I'm lonely, and it's not because it's New Year's Eve. I came here tonight because when you realize you want to spend the rest of your life with somebody, you want the rest of
your life to start as soon as possible.
Sydney Smith
Resolve to make at least one person happy every day, and then in ten years you may have made three thousand, six hundred and fifty persons happy, or brightened a small town by your contribution to the fund of general enjoyment.
Anonymous
Your Merry Christmas may depend on what others do for you. But your Happy New Year depends on what you do for others.
Aisha Elderwyn
Every new year people make resolutions to change aspects of themselves they believe are negative. A majority of people revert back to how they were before and feel like failures. This year I challenge you to a new resolution. I challenge you to just be yourself.
F. M. Knowles, A Cheerful Year Book
He who breaks a resolution is a weakling; He who makes one is a fool.
G. K. Chesterton
The object of a new year is not that we should have a new year. It is that we should have a new soul.
T. S. Eliot
For last year's words belong to last year's language and next year's words await another voice. And to make an end is to make a beginning.
Benjamin Franklin
Be always at war with your vices, at peace with your neighbors, and let each New Year find you a better man.
Edgar A. Guest
A happy New Year! Grant that I May bring no tear to any eyeWhen this New Year in time shall endLet it be said I've played the friend,Have lived and loved and labored here,And made of it a happy year.
Ella Wheeler Wilcox
What can be said in New Year rhymes,That's not been said a thousand times?The new years come, the old years go,We know we dream, we dream we know.We rise up laughing with the light,We lie down weeping with the night.We hug the world until it stings,We curse it then and sigh for wings.We live, we love, we woo, we wed,We wreathe our prides, we sheet our dead.We laugh, we weep, we hope, we fear,And that's the burden of a year.HAPPY NEW YEAR!!!!!!!!!!
Thanks for the great times together, Dick. I cried for you last night!
--The Leading Lady-- | 5:12 PM | 3 comments
---