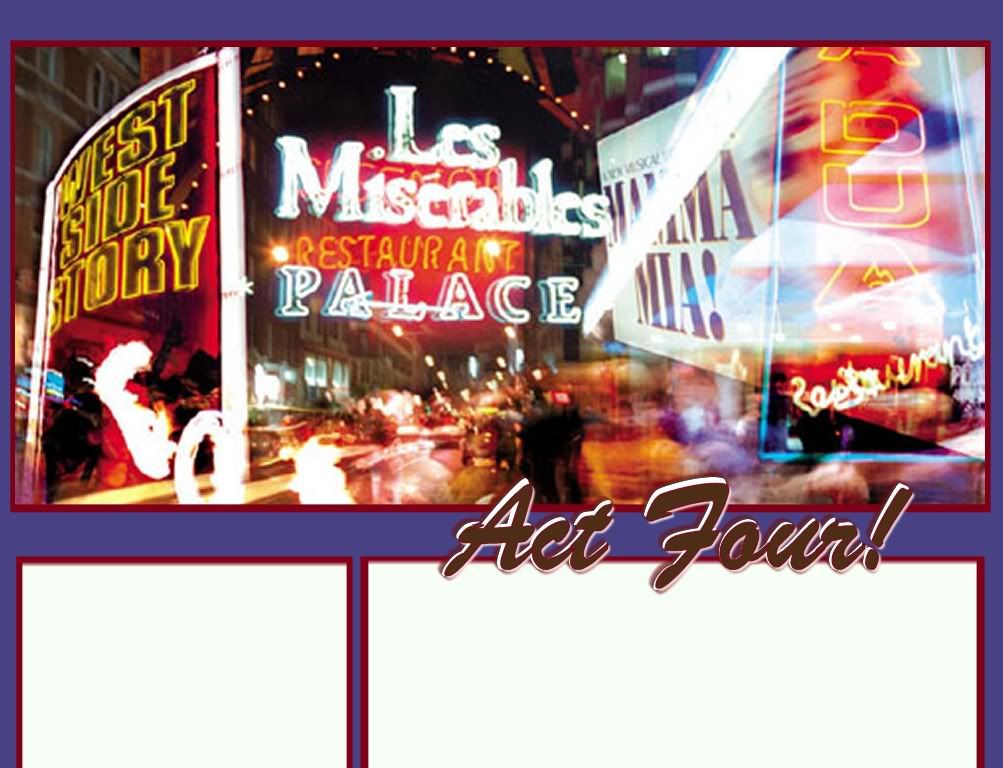 Name: Unga~Chunga
Location: Virginia, United States
Return to Act 4

ACT 1:

Entered convent at age 18 with twin sister, left after 2 years
ACT 2:

Married, had 3 fantastic daughters, divorced after 10 years
ACT 3:
Remarried for 20 years, divorcing
ACT 4:
Now Showing
Blogroll The Leading Lady

Image Provided By Client
PaintShopProCS
Font Garden
Tuesday, January 03, 2006
New Year's Thoughts
Should I dare look back first over the past year to see what 2005 resolutions were met?

At the beginning of 2005 I had already made the sound but difficult decision to end my marriage but was still sharing a house - if living on separate floors constitutes living together. I had just been handed the green light, the shocker of all 'ego out of control' decisions. For fear of being part of a disastrous screw-up on the sale of our house, my husband preferred to give up all interest in a simple concise note: "You can have your money and your house and I'll keep my money and the land at the beach". It was too good to be true - but yet it was true and matured into a signed and notarized Separation Agreement.

The next few months were a whirlwind of downsizing, packing, selling and giving away until I could squeeze 30 years of living in a large house into a small 2 bedroom condo. Yes, we did it girls!! Not without the help of my daughters!!

The settlements and move were stressful but uneventfully smooth. Summer followed with decorating and 'comfortizing' my new home.

I am extremely receptive to the fact that I don't have any major events, tasks or decisions to make in 2006 - at least that I know of as yet. Although it is possible that a new job opportunity may come my way - I'm in the 'courting' stage right now and enjoying the celebrity status. If something comes from it I'll consider using it as a leverage in my current job (maybe).

So I can think about some 2006 refinements............

1) Always on the top of my list is getting in shape. I've joined Curves and have promised myself to show up 3 times a week. It's easy and quick and convenient.

2) Focus on healthy: (1) get that damn mamogram (2) visit my doctor/dentist - due for a checkup

3) Give my aging mother more attention - call her more often - increase the visits and invites over. If she goes to the beach this summer - plan on being there every other weekend to do her shopping. She's failing noticably and I'm wondering if this might be her last year with us. She fears it herself and she's fighting to be able to make it to her granddaughter's wedding.

4) One of my 2005 resolutions was to find a good Church and I feel quite happy with the Church at which I sing each Sunday. I am not immersed - there is a comfortable distance which I like. I want to take from the service what I feel I can relate to without signing the dotted line of total doctrinal commitment. I'd like 2006 to be a year of inward reflection to learn meditation which will both de-stress me as well as keep me in focus of who I want to be.

5) I'm struggling with this one but I think it's important to bring up. I want to try and be a positive force in our family dynamics - I think we are all feeling a little tired of the negative exchanges that occurs on a regular basis. I know I can't change the personalities involved nor can I whitewash hurtful comments or omissions. But I need to practice .....simple 'charity'. In some cases, that might mean I resort to silence. Still an improvement. Our family isn't perfect - there are few out there that are! But we have been blessed with a goodly number of normal, loving members - I grateful for this gift!

6) Last year with my music I dared to dance and even MC a show. This year I would like to work on my keyboard skills. Maybe by this summer I can give the family a demonstration!!

7) I think this will be a year of learning about myself - I'm not going to actively seek out the man of my dreams. I'm trusting he'll find me!

8) As in every year for the past 32 years, I resolve to be a good mother to my wonderful daughters. Each year brings opportunities for me to give back to them the joy they have given me. May it continue for another 32 years!
--The Leading Lady-- | 9:06 PM | 10 comments
---